BridgeBuilder HRMS
An award-winning and comprehensive HRMS that caters for businesses of all sizes and guarantees regular compliance updates and best practice.
Capital Outstanding eCommerce Awards 2021/22 - Outstanding Human Resources Management System - Quality Professional Service
Summary
Based in Hong Kong, BridgeBuilder HRMS (BBHRMS) is an integrated HR management system consisting of a wide range of core and extensive features, including automatic payroll processing, attendance & roster, leave & claim modules etc. while guaranteeing full compliance with local statutory regulations across all regions in China (Hong Kong, Macau, and mainland China). BBHRMS is highly customizable to the extent that users can choose the mode of application (Cloud vs On premise) as well as the ability to mix and match modules to fit their company needs, ensuring the best practice for clients.
---
---
Highlights
Optimize HR Efficiency & Simplify Workflow
Compliant with HK Labour Legislations
Full Customer Support Service
Increase Employee Experience & Engagement
---
Service Packages and Offerings
Exclusive Freebie
Professional Consultation
Contact us for the professional consultation on your HRMS project
Learn more
Service packages and offerings are subject to dedicated terms and conditions, please contact the service providers directly for further details
---
Details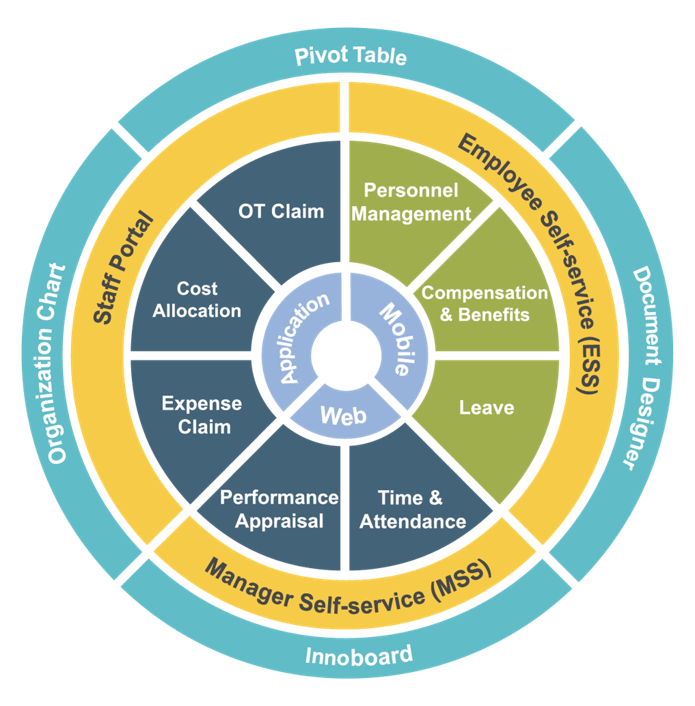 Employee Profile
Consolidate HR records and employee profiles in one single platform with easy access.

Auto-notifications and reminders of important events e.g. renewal of professional qualifications and completion of probation to avoid missing important events

Edit and update personal information e.g. address, contact number, vaccination records via Employee Portal or Mobile App
Employee Self Service(Employee Portal)
Simplifies and speeds up the process for employee requests and personal profile management

Paperless leave requests, expenses and OT claims

Accessible and transparent company and HR information e.g. HR policy, employee handbook, e-payslip etc.

Edit and update personal information e.g. address, contact number, vaccination records etc.
Payroll Engine
Supports complex payroll formulas and customize payroll rules

Integrate with Attendance & Roster Module to extract relevant data to automate payroll processing and calculation to eliminate human error

Fully compliant with local government schemes and taxation plans in Hong Kong, Macau, and China e.g. MPF, 713 and 418

Supports e-payslip and e-tax
Attendance
Track and record real-time employees' clock in and clock out times

Supports multiple clock in and out methods (facial recognition, GPS and bluetooth)

Add new "Appointment" to record any work appointment outside office e.g. client meetings & events to strengthen employee control via transparent working schedule
Roster
Clear calendar view

Customizable shift codes with "Copy" and "Quick Plan" functions

418 alerts to avoid extra wage expenses on staff who have worked 18 hours for 4 consecutive weeks
Leave
Highly flexible and customizable leave policies and leave types

A

utomated calculation of leave balance

Supports leave applications with supporting documents upload function

Allows multiple approval levels and leave delegation
Expense & OT Claims
Paperless expense and OT claims with supporting documents upload function

Automated conversion of OT hours into compensation leave or OT payment upon approval

Easy comparison of the planned and actual OT hours claimed in a combined view
Mobile App
Available on smartphones and tablets

Supports multiple clock in and out methods (facial recognition, GPS, and bluetooth) to cater different modes of working

Make requests to the company anytime and anywhere on the go e.g. leave, OT and claim applications

Edit and update personal information e.g. address, contact number, vaccination records etc

Easy access of HR, company and employment Information

Push notifications of application status, results and company announcements
---
Other solution from this provider
---