Airwallex Global Account
Open multi currency accounts without visiting a bank branch. Start collecting payments from customers in their preferred currency.
Summary
Collect international payments from global customers or marketplace. Unlock your global revenue streams with a foreign currency account.
---
---
Highlights
12 foreign currency business accounts, including both domestic & international
Collect and settle in the same currency. No forced conversions or unnecessary fees.
Receive payments like a local to save up to 3% FX exchange & settlement fees
Integrate with the global marketplace, payment gateway, & eCommerce platforms. like Amazon, eBay, and PayPal to avoid double conversion
---
Service Packages and Offerings
Learn more
Service packages and offerings are subject to dedicated terms and conditions, please contact the service providers directly for further details
---
Details
Save time opening accounts across the globe
Create multi currency accounts at the click of a button. Skip the usual bank queues and excessive paperwork by opening your foreign currency accounts online.
Integrate with global online marketplaces
Seamlessly integrate with global platforms like eBay, Shopify and Paypal. Accept payments in local currencies.
No monthly fees
Zero monthly fees, no minimum transactions. Our global accounts are fee-free to open and maintain.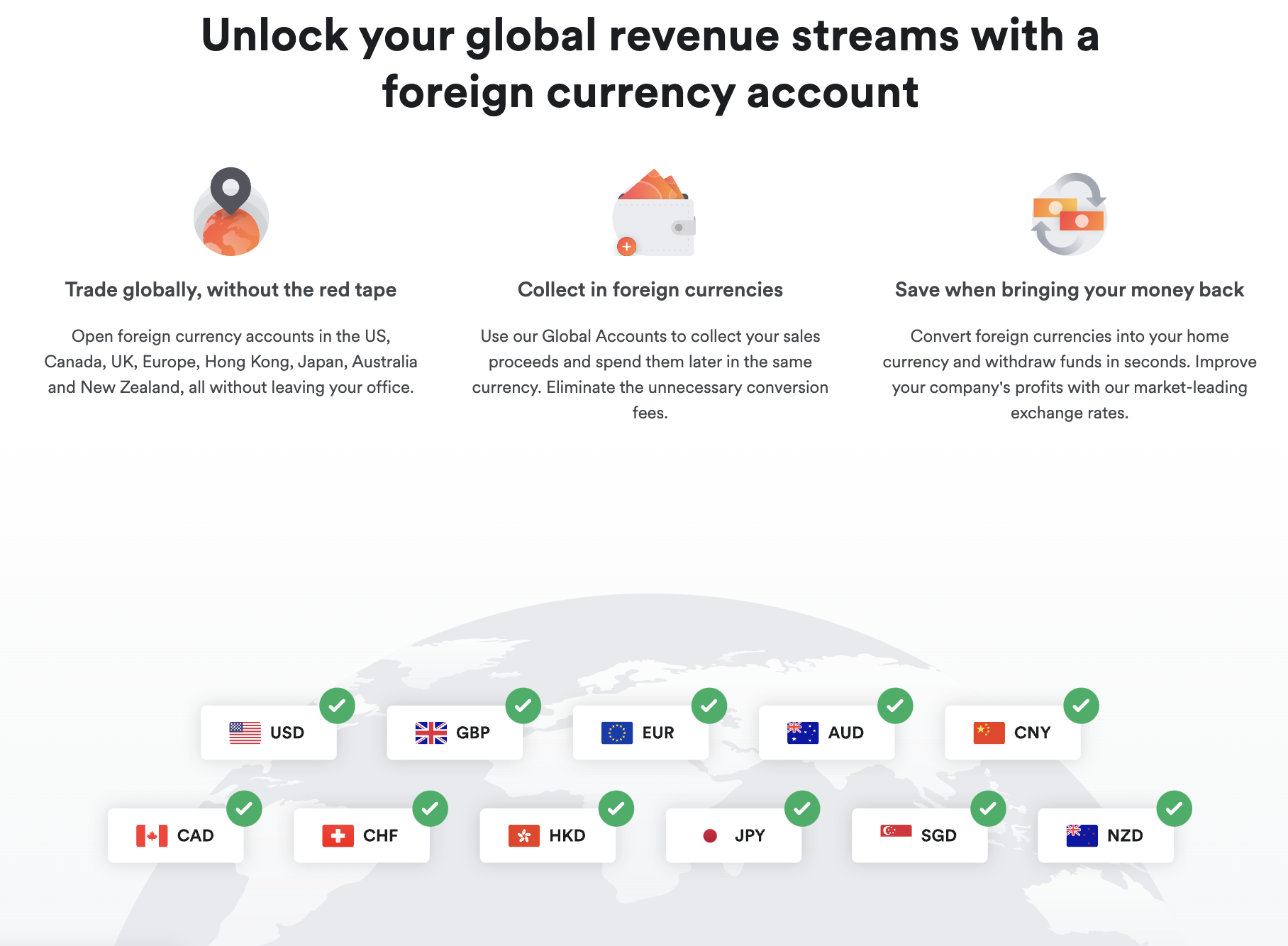 ---
Demo Video
---
Solution Client
---
Customer Testimonials
DigitSense
"Airwallex's webapp allows us to control and set different spending limits for all employees, and manage everyone's spending on the same platform, which has been incredibly convenient."
DigitSense
"If my friend wants to start a business, I will definitely recommend Airwallex, especially with the efficiency and ease of use . Basically, you can complete your application within just a few clicks."
Ginger
"Since using Airwallex, we basically don't have to use traditional banks anymore. From receiving and sending payments to expense management, Airwallex is our one-stop solution for accounting and finance."
Neopia
"Airwallex has been a great supporter in enabling us to recruit team members from all over the world without worrying about the admin tools behind it."
---
Other solution from this provider
---