TecE OMO (POS + E-Shop) Retail Management Solution
Seamless integration for your online & offline retail business
Techland Computer Systems Limited
Unit 1214-16, 12/F, Vanta Industrial Centre, 21-33 Tai Lin Pai Road, Kwai Chung, N.T., H.K.
1-on-1 Consultation
Summary
OMO (Online Merge Offline) replaced O2O and become the leading sales model recently. Online e-commerce platform give a seamlessly convenient & efficient customer experience while offline retail store retain customers loyalty. The integration of both channels bring about tremendous synergy & create value for enterprises. Techland provide the E-commerce solution which seamlessly integrate with POS System & our core Cloud ERP database, revealing comprehensive All-In-One management solution from Sales & Procurement, Inventory to Accounting & Finance as well as Business Intelligence Reporting.
---
---
Highlights
Frontline POS system for management of retail shops
Easy setup of your E-Commerce with Shopify platform
Real time, Accurate and Efficient with One-Stop OMO platform
---
Service Packages and Offerings
Exclusive Freebie
System Demo & 1 to 1 Consultation
Learn more
Service packages and offerings are subject to dedicated terms and conditions, please contact the service providers directly for further details
---
Details
With the strong backbone of TecE ERP solution, TecE POS provides a fully integrated platform from front-end retail shop management to back-end operation which covers sales, procurement, inventory and accounting cycle.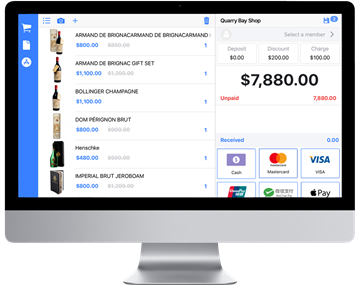 TecE POS Feature Highlight:
Support direct sales and sales with deposit
Support cash, credit card and multi-mobile payment method
Invoice, deposit, refund and exchange management
Support goods delivery / shop pick-up
Item information and price enquiry
Stock enquiry across shops
Promotion plan and discount management
Membership management: registration, information enquiry and discount
Stock replenishment and delivery management
Multi-level access right and control on price / discount adjustment
Shop petty cash management
Day end process
Order changing history
Multi-dimension sales analysis report
Integrate with inventory and accounting module of TecE ERP System
---
TecE E-commerce solution provide a one-stop OMO shopping platform to your customers. With the integration of TecE ERP system, the operation of online shop can be streamlined and provides a real-time update on sales, inventory, logistics and accounting management.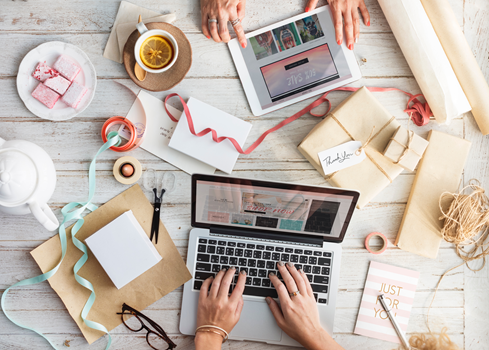 TecE E-Commerce Feature Highlight:
Seamlessly connected with TecE ERP system
Omni-channel order management
Promotion and discount management
Real time stock availability enquiry
Membership system
Product delivery management with auto-update delivery status
Integrated with courier system, support auto-print courier order
Support multiple online payment method
Integrated with EDM platform for promotion e-mail sending and mail list handling
Responsive design suit for usage of multi-device
SEO friendly, support Google Analytics and Tag Manager
---
Key Benefit:
User-friendly front-end system with powerful backbone ERP for comprehensive analysis
One-stop Omni-Channel sales management with centralized management of information to ensure efficiency, accuracy and consistency
Real time stock level monitoring to promote stock turnover rate and lower inventory cost
Encourage re-purchase and improve customer experience and loyalty with membership system
Gather and analyse critical customer behaviour data for re-marketing and target promotion
Combination of online & offline sales strategy boost the sales volume with lower investment cost & risk
---
Demo Video
---
Customer Cases
Digital Transformation of Tong Ren Tang
Beijing Tong Ren Tang Hong Kong Medicine Management Limited (Tong Ren Tang) is a well-known Chinese medicine store with hundreds of year of history. Since 1991, Tong Ren Tang has opened more than 70 branches in Hong Kong. In addition to selling Chinese herbal medicine and drugs, there are also experienced Chinese medicine doctors in some branches. Long history does not mean old-style and conservation, Tong Ren Tang recently introduced the TecE ERP and POS system to manage their operation of stores and office efficiently.
Local Hong Kong's Brand – "TART ADDICT" O2O System Solution
TART ADDICT is famous for its distinctive and high-quality products. TART ADDICT's retail shop is using Techland's POS (Point of Sales) system. With the simple interface design, user-definable pricing / discount and real-time inventory enquiry features, staffs can place order and check the stock easily. Techland also helped TART ADDICT to build their own E-shop web site. Both online and offline solutions are integrated with the back-end TecE ERP system, it facilitates the centralized management of membership, product, sales, inventory, and accounting information and greatly increase the operation efficiency.
---
Solution Client
---
Customer Testimonials
---
Company Profile
科域電腦系統有限公司是香港及大中華地區其中一間具領導地位的科技資訊系統供應商。自1991年成立以來,科域已為超過3,000間不同企業提供 ERP 企業資源管理系統、 POS 零售管理系統、E-Commerce 電子商貿及流動應用Apps等,有效支援全渠道 (Omni-channel) 以及線上線下 (OMO) 的嶄新營銷模式。客戶包括貿易、批發分銷、零售、製造及服務行業。 科域一直本著以客為先的服務精神,以先進的技術、專業熱誠的實施團隊,致力為企業提供與時並進的系統方案,協助企業達到業務指標。科域總公司設於香港,並於深圳及南寧設有研發及支援中心,能為香港、大中華及亞州地區的客戶提供更完善的服務。除了眾多本地及外資企業,我們亦憑著對日資企業流程的了解,提供切合日企需求的ERP方案,多年來在日資客戶群中贏取了良好的口碑及聲譽。 Techland Computer Systems Limited is one of the market leaders of ERP (Enterprise Resource Planning) solution serving the enterprises of Hong Kong and Greater China region. Since our inception in 1991, Techland strives to partner with over 3,000 companies in distribution, trading, manufacturing and service industries to achieve their business goals and success in new era. Apart from helping to streamline the operation and maximize the return on investment (ROI) by ERP system (TecE), Techland also extend the power of TecE with new and differentiating solutions. These include web-based solutions, e-commerce and mobile application / APP to meet the requirements of latest omni-channel and OMO business. Headquartered in Hong Kong with branch offices in Shenzhen and Nanning, our R&D and implementation teams serving not only Hong Kong, but also the Greater China and Asia regions. Beside the local and multi-nation enterprise clients, we have accumulated a significant no. of Japanese clients base on our good reputation and our cognition of Japanese requirements.
---
Other solution from this provider
---